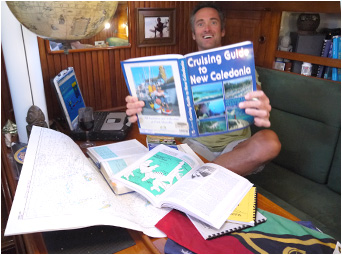 > Have a question, advice or comment?
Send an email! (DreamTime@zeroXTE.com)



Day 2,467 - New Zealand (36

°

25S 174

°

49E)
20:09hrs - March 2nd 2014


Where Now!?

We've made a big decision... we've decided to continue west, to explore new regions, and to get back on track to close the loop of our world circumnavigation.
For the last five years we've been carefree cruising, sailing freestyle - bobbing around the islands of the South Pacific with no agenda beyond the horizon, and it has been an epic experience. But now we're back in New Zealand we've decided that perhaps it's time to cross new oceans.
After we've completed our boat projects we'll be heading north to see the legendary vine jumpers of Vanuatu, to anchor off active volcanoes, to explore the rain forests of New Caledonia, and to make our way over to Australia where we'll welcome in the New Year anchored in Sydney Harbour, right next to the Opera House.
Southeast Asia awaits, too. The markets of Bali and Borneo. The Vietnamese coastline, Singapore and Thailand. The Indian Ocean will be next, Sri Lanka and the Maldives before we head up into the Mediterranean and prepare ourselves for our final crossing: the North Atlantic.
Of course all this will take us several years. If we 'rush' perhaps we could do it in just three, but as we're in no hurry six to seven years seems a more realistic timeline, especially when you consider how long it has taken us to come this far.
So we're in the early stages of preparation - finding new courtesy flags, unfolding pristine charts and researching cruising guide books. It's exciting - preparing to embark on the second half of our world circumnavigation.
Of course, we have been know to change our minds, after-all we're sending this entry from New Zealand, a country that, when we left America in 2007, we had absolutely no intention of visiting even once (this is our third stay here). So I guess that it's remotely possible that our plans could change again. But for now, at least, we've never been more certain.

Computers Aboard!
Click here to find out why we wouldn't want to sail without it >