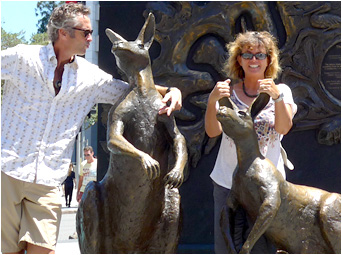 Day 3,471 - Peel Island (27

°

30.3S 153

°

21.6E)
18:42hrs - December 2nd 2016


Our First Kangaroo Sighting

We've been in "Sraylya" for a week and we've have had our first kangaroo sighting! They weren't completely real kangaroos, but kangaroos in Australia none the less, so it counts. We met them in downtown Brisbane quite close to the giant Christmas tree, their natural habitat I believe, a lucky sighting really. You can actually eat them here, along with emus and crocodiles if you like, although I'm not sure I want to do that. Not sure why but we haven't seen any koala jerky yet, maybe they're just too cute to eat?
We spent our first week in Australia in a marina with a flurry of boat projects, re-provisioning and cleaning so it was a lovely treat to end the week with a few nights in a Brisbane city hotel exploring, people watching, shopping and for me languishing in a bath while watching Australian TV with a cup of tea and a ginger nut, ahhh heaven. It has surprised me how much like America it is here, certainly in and around Brisbane anyway. Driving along the highways and seeing the huge shopping malls feels just like being in the States, except maybe cleaner and less busy. But I guess that's the difference between having Australia's population of 22 million people using a country, versus America's 300 million using theirs. But either way it makes for a very pleasant introduction to Australia.
Even the weather has been lovely, lots of sun and wind, great for exploring, sailing and really good for boat battery charging. We have a little sailing around time now so were anchored in Horseshoe Bay outside Brisbane, it's full of Ozzie boats enjoying some lovely sub tropical leisure time, and I'm still keeping a lookout for a real live kangaroo. I don't know if there are any here but I'll let you know if I find any.