A Little Engine Trouble
March 31, 2021
Ragged Islands, Bahamas


The Raggeds are not the place to experience engine trouble. Freddie, our resilient and well used 8HP Mercury engine, has provided us with a decade of faithful service, but recently he's been showing his age. In additional to an impressive list of existing failures and MacGyver repairs, the hub spun this week (the rubber shock bearing in the prop that slides over the drive shaft). The rubber's so worn it's now spinning freely inside the prop, so anything over turtle speed has the prop slipping and us drifting in the breeze - hardly ideal when the next downwind island is Cuba, a hundred miles away. There are no services here in the Raggeds, it's a DIY island chain, so today we executed a little island ingenuity by drilling three holes right through the prop then securing the loose bearing with stainless steel screws. Remarkably it works. Freddie is back in action and it's full speed ahead.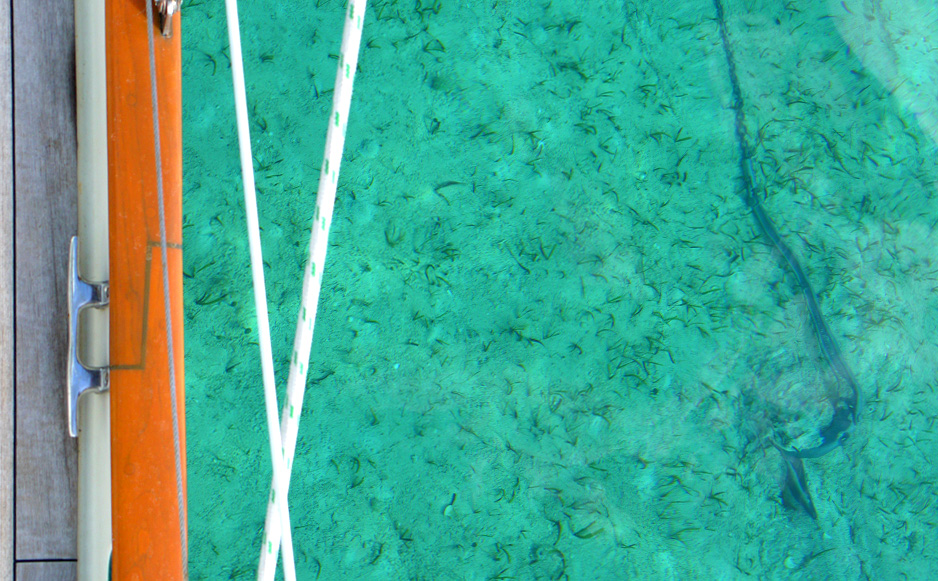 Not Too Shabby
March 22, 2021
Ragged Islands, Bahamas


Yep, that's ours. A gentle wind shift swung Dream Time 180 degrees in nine feet of water, water so clear we could see our own anchor, and with such clarity you'd think we were aground. Yesterday we arrived in the Raggeds, a thin chain of limestone islands so far south it's just a day sail from Cuba. Only a relatively small percentage of Bahamian cruisers seem to venture this far down, and as the local population in Duncan Town - a remote outpost on an island that gives the chain its name - is reportedly under one hundred, fish, and lobsters, go about their daily routine mostly undisturbed. It is, however, lobster season in these waters, although only eight days remain, so we wasted no time in securing dinner. We gave them a sporting chance, choosing to use a snare device rather than a spear, and managed to lasso two tasty crustaceans by the tail hiding beneath the rocks just fifty yards from the boat, and while authorities allow visiting cruisers a very generous ten servings per day! when individual portions are this impressive, one, or two, is plenty.
This one was almost too big for the snare.

Risk vs Reward
March 19, 2021
Long Island, Bahamas


Sailing south through the Bahamas is much like a game of Frogger - you hop, wait, skip, wait, and sometimes scramble and squeeze between passing weather systems whilst trying your best not to get squashed. After waiting three weeks in the Exumas, today we set sail from George Town with cruising friends Scintilla (who took the above photo - thanks dudes!) and Gallivant. It was a mellow hop, more of an amble, really, in mostly favorable winds that barely hit double digits. We're anchored now off Long Island, but it's just an overnight rest for us, tomorrow we will skip further south towards the Ragged Isles, a marvelously remote chain of islands perched on the edge of the Cochinos Bank just a short jump from Cuba.
Cruising guidebooks warn that the Raggeds are, "an unpopulated wilderness", that visiting sailors must be "totally self-sufficient" and that the islands can be "dangerous for even the most experienced ocean cruiser." They also cheerfully go on to mention that, "help may be non-existent or days away" and that "innocent boaters could be caught in the middle of dangerous [drug-smuggling-related] situations." But hey, some of the most memorable and rewarding experiences on Dream Time have come with a healthy dose of risk - just like an exciting game of Frogger.

Working on the World
March 12, 2021
George Town, Bahamas


Stiff northeasterly winds are still stretching snubbers here in George Town, but that's OK, it's an opportunity to work on the world. Landmasses are complete, save for final detail, a compass rose has been added, and the first tall ship, departing Cape Verde, is bound for the Caribbean Sea. But like our Atlantic crossing last year, it'll take a few weeks before this project arrives at its destination.


Reflection
March 9, 2021
George Town, Bahamas


Strong northeasterly winds are bending palms, whipping up the Exuma Sound into a seascape of jagged whitecaps, and have mostly grounded the cruising fleet here in George Town. 25-30 knots will keep us anchored here for another week, and unfortunately it's just too breezy to fly my 12 meter kite. So I'm passing the time another way and have begun a project to engrave the world onto the old Japanese fishing buoy we found almost entirely buried at the bottom of the South Pacific over eight years ago (read Buried Treasure).
Last year we converted the buoy into a light (read Floating Lights) which hangs inside Dream Time's cabin, and now that we're nearing the end of our voyage, it seems fitting to commemorate the journey on the sphere we found during a drift dive at our most favorite anchorage in the world.
I'm beginning slowly, I've never engraved glass before, so I'm outlining land masses with a fine Sharpie before etching the surface. There's no 'command Z', or eraser, so whatever etching I make will be permanent. I'm beginning with Australia, after-all that's the country where the idea of Dream Time's voyage began twenty-seven years ago, and like our voyage, I will work my way west. Once all land masses, islands and atolls have been engraved, I'll move on to more challenging detail - a compass rose or two, tall ships, and perhaps a few sea monsters lurking in the higher latitudes.
We're anchored off Elizabeth Island riding out the wind gusts just south of George Town in water so shallow that on our first night Dream Time's keel actually smoothed out the soft sand hills on the seabed at low tide. We re-anchored the next day to deeper water (eight feet) - after just six weeks in the Bahamas we are now surprisingly casual about water depth, seven feet, or eighteen inches under the keel, feels like plenty.
We have our own little beach just a hundred feet off the bow. Its palms offer shade, the fine sand a comfy cushion on which to sit, and its isolation provides solitude for me to work. Just around the corner, off Stocking Island, over a hundred sailboats are clustered together off the popular 'Chat n Chill' beach bar where cruisers congregate en masse for daily events, festivities and sundowners. We'll be back in New York by this summer and there'll be plenty of people on Long Beach, so for now, while we have it, we're enjoying a little solitude and some peaceful reflection.





The Little Dinghy That Could
March 7, 2021
Exumas, Bahamas


Last week Catherine and I were towed back to Dream Time by charitable cruisers who took pity on us. 'Freddie', our 8hp Mercury outboard, stubbornly refused to start half a mile from the anchorage. It was a tow of shame.
We purchased Freddie and the Duck (an Avon RIB) in Tahiti back in 2011, and they have lived a full, satisfying and adventurous life. During Duck's eleven years of loyal service she has been sliced open by a wahoo, punctured by spiny lobsters, she very nearly sank after the port side entirely and rapidly deflated in a single gasping exhale when 'someone' collided with a razor sharp limestone ledge in the Tuamotus. Eleven years of tropical sun have taken their toll, peeling away trim, patches, and weathering fabric into a faded camouflage of worn grays. And in just the past week, while we've been anchored off George Town in the southern Exumas, the port side rubrail has entirely torn away, the seat broke and one of the emergency oars simply snapped clean in half. Our dinghy and outboard have been so well used and are so weathered Catherine recently confessed to being mildly embarrassed when riding in it.
While being towed back to Dream Time, with the rubrail hanging limp and splashing alongside, a broken seat and peeling patches, the friendly couple giving us a tow, looking at the pitiful craft being dragged behind them, pointed to a suitably derelict-looking sailboat anchored ahead, the kind of vessel commonly found abandoned in the shallows along the ICW, and adjusted their heading accordingly, assuming it a logical and natural pairing for our dinghy.
We politely redirected them to Dream Time which was anchored a little further away. Their confusion of the matching quality of craft was clear - after all our dinghy was barely afloat, had no working engine, and was literally held together by Gorilla tape, an assortment of rope and sealant - yet there rested Dream Time, a shiny sloop, tidy in every regard, with varnish and even gold leaf gleaming in the afternoon sunshine.
We did consider replacing the dinghy in Florida last year, but decided to squeeze just one more season out of the her. At any rate, she's been part of our family for over ten years and every scratch, hole, dent and tear tells a story, most from the South Pacific, and they bring back fond memories. She's done well, and as our Australian buddies would drawl, "Mate, she doesn't owe ya anything."
Since the tow of shame we have reattached the rubrail using an entire tube of 5200 sealant. Freddie is running again, a carb clean and some words of encouragement were all that was required. The seat has been reattached with a sort of rope sling, and our oar has been reinforced with a piece of dowel slipped inside the two ends and held together with a lacework of string.
I am proud of our dinghy. She may not be much to look at, but she's had a heck of an adventure. It will be a sad day, for me, to see her go. Catherine, I'm sure, will likely breathe a sigh of relief.