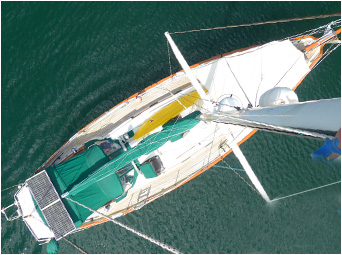 Day 3,553 - Middle Harbour, Australia


21:31hrs - Feb 20, 2017
Keeping the Dream Clean

Now that we've spent a few months exploring Sydney Harbour it's time to go walkabout. We've got an epic trip planned: a drive up the New South Wales coast to see friends on Lake Macquarie and Byron Bay before swinging south on the Pacific Highway for a month on the road to Adelaide. Then a flight will take us over to Perth in preparation for a cruise up the remote northwestern coastline to Darwin - in a camper van! Yep, that's right, for five weeks we're going to live in a camper with an interior that's roughly half the volume of Dream Time.
As we'll be leaving the boat for a few months we've made the usual preparations - pickling the watermaker, removing sails, flushing engines and pumps, but with an abundance of birds in the neighborhood: seagulls, swallows and screaming flocks of marauding cockatoos, we've had to take additional action to secure the boat.
Locals have warned us of the cockatoos penchant for swinging on and chewing expensive wind instruments, and as bird droppings are usually relative to their size (and these are some pretty big birds) the fallout from three months of continuous cockatoo droppings could be catastrophic.
To discourage our little feathery friends from using Dream Time as a swing set and lavatory perch, I've removed our B&G wind instrument, rigged a few dozen cable-tie spikes, and laced about thirty meters of string over spreaders, sail covers and canopies.
Short of fully covering the boat in an elaborate network of nets, a technique employed by a number of local boat owners, our cable-tie and string method will just have to do.
Now, time to hit the road...