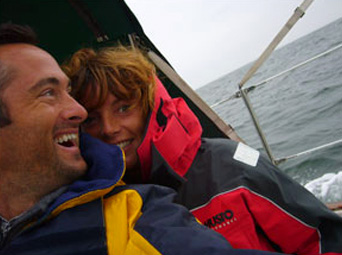 Day 3,654 - Surfer's Paradise, Queensland


20:35hrs - June 1, 2017
10 Years and Counting!


June 1st 2007 - June 1st 2017
3,654 days | 32,617 nautical miles | 22 countries & regions

10 years ago today we officially moved out of our home on Long Beach, New York, to begin a new life on Dream Time. To circumnavigate the world, to go where no Dream Time had gone before.
While Neville had always wanted this adventure, to discover undiscovered places, to swim with whales, trek through steamy jungles, I didn't know what I wanted. All I knew was I enjoyed being on the boat, it was our happy place. It was where we would go to decompress from a hectic work week, to seek out our own little private space on the water, to nap on Sunday afternoons, but beyond that I had no idea how it would feel to live a life almost entirely disconnected from the day to day life that had been my normal up until then.
At the beginning there were lots of frustrations remembering the home comforts I had traded in for this simpler uncluttered life. Things from my old life wouldn't fit into the new space, organizing and reorganizing was maddening and I missed my New York kitchen and bathroom. Everything seemed more complicated instead of less, and I admit there were tears, but as time went by I settled into Dream Time and I allowed her to show me that the things I was leaving behind couldn't possibly compare to the adventures she was going to show me over the next 10 years. And here we are, 10 years later, happier more fulfilled and certain that this is exactly where we are supposed to be.
We have had so many adventures in these first 10 years. Encounters with whales and sharks, discovered our own uninhabited desert islands, climbed active volcanos and watched ceremonies from ancient and disappearing cultures. We've had storms and big waves and beautiful sparkling becalmed seas and sailed by starlight and been rendered speechless by sunsets and there seems no end to the beauty of it all. I've learned that big water is scarier than big wind, and that the moment you think it's time to reef the sails you should reef them, and that everything will really be OK in the end, and I trust that.
I feel so insanely fortunate to be living the life we have right now, all our stars have magically aligned in exactly the right way at exactly the right time, we even want the same things at the same time and I recognize how rare that is. I would never have guessed 10 years ago that we would be here now, but there you are, life is a mystery, thank you life and thank you Dream Time, Happy Anniversary to us all.